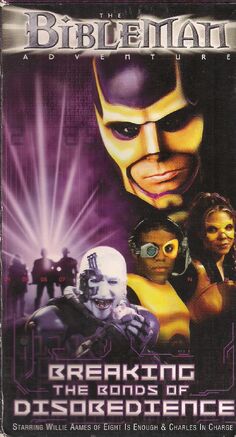 Breaking the Bonds of Disobedience is the 10th episode of the Bibleman series(not including the live shows) and the first appearances of Bibleman new more solid armor, the new Ludicrous, and Lia Martinez as the first Biblegirl, and the reveal of Luxor Spawndroth's real name
Plot

The Bibleman Adventure Team discovers their old nemesis Luxor Spawndroth has devised a plan to trick Bibleman and a young actress Lia Martinez into disobeying God. by using his Microbious Disobedientis (The Germ of Disobedience) Luxor tries to convince Bibleman and Lia to give up their roles in a local theatre production. With tempers flaring and time running out, Bibleman and Lia learn a powerful lesson in Proverbs 19:16 "Whoever obeys the commands prtects his life".
Ad blocker interference detected!
Wikia is a free-to-use site that makes money from advertising. We have a modified experience for viewers using ad blockers

Wikia is not accessible if you've made further modifications. Remove the custom ad blocker rule(s) and the page will load as expected.