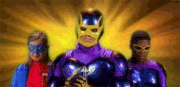 Melody is the last person to join the Bible adventure team. She is also Biblegirl's cousin. 
History
She was originally a special delivery agent for command centeral, however was instituted into the team by Josh when she fixed unice.
Equipment
Melodys armor is lightweight but effective. She uses a double bladed sword and gymnastics to complete missions.