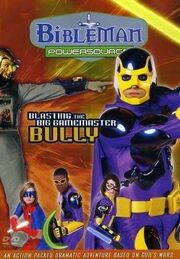 Super Pro Gamemaster III (or "Gamey" as LUCI likes to call him) is a villian in the Bibleman Powersource series.
History
His first appearence was when he tried to remove the bible from the hands of the Bible Adventure Team. However this ended in failure. His only known scheme was when he tried to bully Josh into hanging up his cape for good. However this failed and ended with him singing The B-I-B-L-E song.
Abillities
He used game clones and a remote control hellicopter that fired missles. He also has a small green sword.