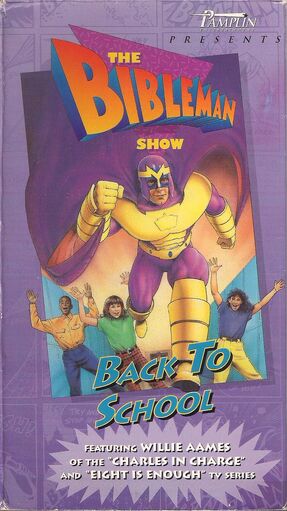 Back to School is the second Bibleman episode,
Like Big Big Book, it did not receive a DVD release,
and thus considered lost, copies of the tape can
be found floating around online however.
Plot (from the back of the VHS case)
In this episode Bibleman's neighborhood friends invite him to come along as they bring the dynamic Bibleman Show to the entire school. Then join Bibleman as he challenges the malevolent Madame Glitz. Will she keep him captive? Will he break free from Madame Glitz's evil Snare? Stay tuned to find out!
Cast
Willie Aames: Miles Peterson/Bibleman
Mark Cole: Chad
Callie Dye: Courtney
Kelly La Croix: Kim
Kaven Panmeechao: Danny
Natasha Smith: Nikki
Van Mosley: Mr.Davis
Cindy Philips: Madame Glitz
Trivia
there were two members added to "the Bibleman Show" cast Andre and Sheila but their young actors were not credited unfortunately.
there were also two boys in the episode that have a bet that Bibleman will/will not show up to their school and those kids aren't credited either
Ad blocker interference detected!
Wikia is a free-to-use site that makes money from advertising. We have a modified experience for viewers using ad blockers

Wikia is not accessible if you've made further modifications. Remove the custom ad blocker rule(s) and the page will load as expected.